Phone systems are a key component of business communications. The majority of businesses of all sizes say it is their primary communication tool.
Always a trustworthy and robust technology, telephony systems and technology have changed immensely over the years. They are now elegant and highly-complex systems able to perform several communication functions simultaneously while being as reliable as always.
An example of modern phone technology is the cloud phone system.
What Is a Cloud Phone System?
A cloud phone system is powered by Voice Over Internet Protocol (VoIP) technology and uses a cloud-based server to store its pertinent data and information. The information stored in the cloud can include system automation preferences, contact lists, inbound messages and employee voice messages.
Generally speaking, cloud phone systems use the internet to manage all of the business's communication and audio needs in one central location.
What is a VoIP Phone?
VoIP telephones use broadband internet signals to send and receive calls instead of a traditional copper wire, or landline, type of telephone technology.
Is a Cloud Phone Different from Other VoIP Phone Systems?
Yes, cloud-based VoIP phone systems differ from other VoIP phones in a few ways. Depending on the type of cloud phone system you choose, it could be hosted in the cloud by an off-site third-party vendor or as part of an on-premise cloud solution.
A primary benefit of any cloud-hosted phone system is that it reduces businesses' need to invest in expensive hardware and software.
Read more about VoIP phone systems on our blog:
How Does a Business Cloud Phone System Work?
At its core, a cloud phone system is designed to send and receive audio data in the form of voice and video calls over the internet. But in 2023, that's not all. A modern cloud phone system, such as Mitel's MiCloud Flex, gives businesses the power to combine their communication network with other business-critical tools, such as a CRM or paging system.
The combining of different communication tools leads to increases in efficiencies across several business processes.
A cloud phone system marries two of the most powerful communication technologies: the internet and traditional landline telephony. This innovative integration means businesses can communicate more efficiently for less money and with fewer frustrations.
Are cloud phone systems easy to use?
When working with a cloud phone system, the user experience is similar to a traditional telephone network, except there will likely be a greater selection of features and functions to choose from in addition to enjoying better voice quality.
Businesses have complex communication needs; it's common for companies to have different communication and telephone technologies under one roof. When that's the case, a cloud phone system can be relied upon to synchronize numerous systems and improve communication processes.
What equipment is required for a cloud phone system?
With a cloud-based phone system, businesses can use almost any device that can be connected to a stable internet connection. Traditional desk phones, computers with softphone software, mobile devices, tablets, and more, can be part of a cloud phone system's network.
A leading benefit businesses experience when choosing a cloud phone system over other VoIP-powered phones is that minimal equipment purchases are required, especially when compared to other VoIP systems.
Credit: freepik
Features of Cloud-Hosted Phone Systems
Businesses can customize their cloud phone system with advanced features and functions tailored to the needs of their specific industry.
For example, a customer service team may need features such as call forwarding, voicemail-to-email integration, and auto attendant for incoming phone calls. A sales department might benefit from desktop-sharing tools that empower them to collaborate quickly with customers, partners, and vendors.
Business phone systems can be adapted to your business's unique needs and communication goals.
Cloud Phone System Functions and Automations
Call Forwarding
Call Routing
Auto Attendant
IVR
CRM Integration
Voicemail to Email
Video conferencing
Numbers Porting
Click-to-call
Call Recording
Top-Level Integration Capability
Integration is essential for any business with a digital toolkit. Integration capability is a vital component of a sophisticated cloud phone system. When setting one up, organizations can choose to integrate their phone network with other essential business tools such as:
Real-time chat applications
Email
Video conferencing solutions
CRM
Wireless paging system
All of these functions aid in encouraging seamless communication across an organization.
We serve clients in a variety of industries including:
3 Types of Cloud-Based Phone Systems
When considering a cloud-based phone system for your business, businesses can choose from several types. The type of phone system you should select depends on your organization's size, cost, and needs.
Hosted VoIP Phone Systems: This is a cloud-based service where all equipment and software are hosted by an external vendor who manages the system. A hosted phone system is an ideal type of cloud-based phone system for small business owners, as it is quick and easy to set up and requires minimal maintenance.
On-Premise VoIP Phone Systems: An on-premise cloud phone system is installed and maintained by an in-house IT team or vendor. This phone system is best suited for larger organizations with the resources to manage and maintain the system or companies that prefer to have complete control over their data.
Cloud PBX Phone System: A Private Branch Exchange (PBX) is used within an organization or company to make internal and external calls. If you've ever 'dialled 9 to get out', you've used a PBX phone system. With a hybrid PBX, or cloud PBX, calls are made and received using the internet instead of a hardwired landline phone system. Additionally, all data in a cloud PBX system is stored on a cloud-based server.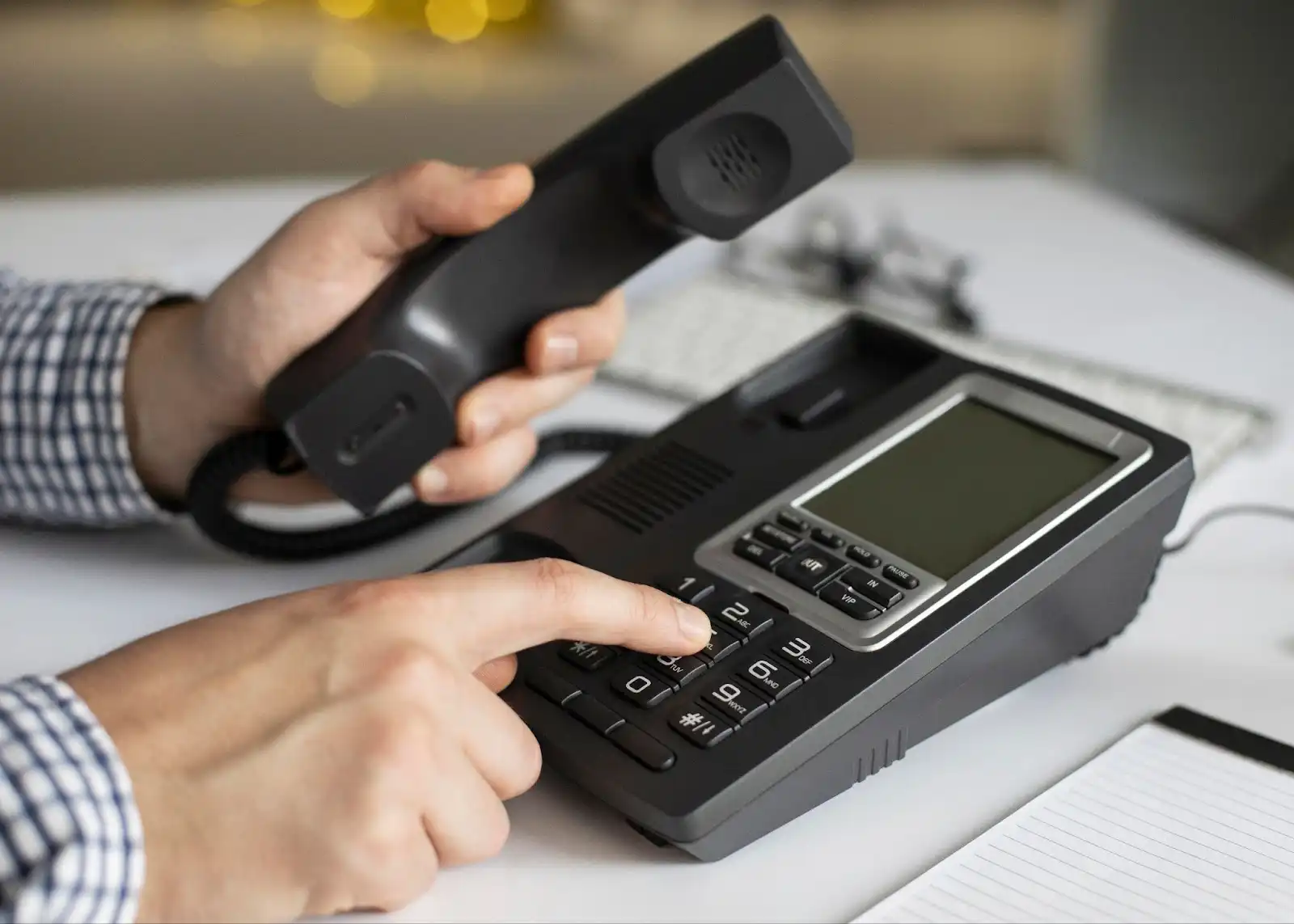 Credit: freepik
Benefits of a Cloud-Based Phone System for Businesses
A cloud phone system offers a number of perks businesses can leverage to improve communication, increase efficiency, and lower telecommunication costs.
The most notable advantages include the following:
Mobility
Cloud-hosted VoIP systems allow users to access their telephony features from anywhere, using virtually any device with an internet connection. This gives businesses the flexibility to stay connected at all times and helps them remain competitive in an ever-changing business environment.
Cost Savings
With a cloud phone system, businesses no longer rely on expensive landlines or leased PBX systems. Instead, they can leverage VoIP features such as call forwarding, conference calls, auto attendants, caller ID and more without paying high costs for maintenance, hardware and updates.
Scalability
Cloud-hosted phone systems are highly scalable, allowing businesses to add or remove users as needed quickly and easily. This scalability also makes it possible for companies to grow without worrying about an expensive upgrade to their system. Scalability is also important when transitioning away from a legacy phone system.
Integration
Cloud phone systems can integrate with other software and services to create a unified communications system. This allows businesses to connect their sales, marketing and customer service teams for improved efficiency and collaboration.
A Cloud-Based Phone System Has a Lot of Moving Parts
Keep pace with your customers' demand for contact with a fully managed phone system. Get advanced services like call routing, call forwarding, auto attendant, and more, all managed and regularly updated for you. Stop wasting time and money trying to set up your communications channels and trust Sunco to construct your business communications system.

What Should Businesses Consider When Upgrading to a Cloud-Based Phone System?
Businesses upgrading to the cloud should consider their phone system needs and how a cloud phone system may benefit them. Upgrading to the cloud will allow for more stability in communications, help to reduce costs, and improve customer satisfaction.
Businesses should consider the following when choosing a cloud-based phone system:
Service Availability. Make sure to check with your provider regarding access to the required broadband width in your area. A cloud-based phone may not be suitable for your needs if your region does not have access to a stable, fast internet source.
Pricing Options. Different providers offer different pricing plans based on features and the volume of calls. Compare plans and make sure to select one that meets your business needs. At Sunco, we work with our clients to review their telecom bills and find the most economical network phone solution that meets all their telephony requirements.
Network Security. A cloud phone system should include the latest security protocols, so ensure you understand the measures implemented to secure your data.
Scalability & Flexibility. Ensure that your chosen cloud-based phone system can be modified and scaled to meet your business needs.
Integration. Ask about the integration capabilities and what services can integrate with your cloud phone system.
Ready for Business Cloud Phone Services?
A cloud phone system provides businesses with the flexibility, scalability, and cost-saving benefits they need to stay competitive in today's ever-changing business environment. Features such as call forwarding, conference calling, auto attendants, and caller ID are all accessible from virtually any device with an internet connection. They are sure to ease communication frustrations across your company.
Sunco Communication and Installation Ltd. is one of Canada's leading communication and installation providers; we offer connectivity solutions that are thoughtful and reliable. Contact our team to learn more about cloud phone systems and how they can improve your business processes while lowering communication costs.
Featured Photo Credit: rawpixel.com