Sunco is your Hotel Communication Concierge
From boutique guesthouses to large luxury hotels, Sunco has partnered with hundreds of hotel operators for over two decades. We offer hotel phone system hardware, guest room phones, internet, phone lines and even 24/7 managed services. Increasing efficiency, enhancing guest experience and saving you money.
Hospitality Phone Systems
Sunco has a proven track record with two of the leading hospitality communications platforms – Mitel and Phonesuite – and has the experience and knowledge to back it up.
Mitel Phone System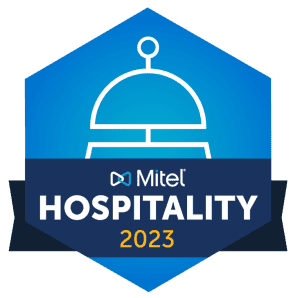 Mitel is a recognized brand standard across the globe and boasts a full line-up of technology ranging from the dependable SX200 with basic features and IP integration, to the MiVoice Office 400, MiVoice Business and Connected Guest systems bursting with full IP functionality and SIP trunking capability.
Start the process of buying a new Mitel hospitality system off right with this comprehensive buyer's guide.
Phonesuite Phone System

Phonesuite offers low-cost scalability and simplicity for hotels with its basic legacy PBX, in addition to cutting-edge software-based hotel VOIP phone systems (IP-PBX) with full hospitality features and a friendly user interface.
What Hospitality Phone System Do I Need?
Not sure which phone system is right for your hotel? Let the Sunco team analyze your property's needs and help guide you through the process of selecting a phone system from the very best technology available for the right price!
Why Phonesuite?
Sunco is now the exclusive Canadian distributor for Phonesuite, and proudly offers two of its newest platforms - Voiceware VoIP and Managed VOICE phone systems for hotels.
Find out more!
"
Sunco offers prompt service with experienced, knowledgeable staff.  They have been our valued partner for over five years.

"

Prem Singhmar, AUM Hotel Group Inc.
What are the features of a Sunco Solution?
Feature #1
Simple Bundled Pricing
Sunco can create a complete solution that incorporates all your monthly communication costs, including hardware lease costs and phone lines, into one budget-friendly monthly payment.  Add Hospitality Managed Services to the bundle and you have Sunco's expert team overseeing your hotel's phone system 24/7, saving you time and money!    
Feature #2
Management of your Telco Service Partner Relationships
Sunco is partnered with all the major telco providers – Bell, Shaw, Rogers, and Telus – and can shop around for the best rates, negotiate with service providers on your behalf, and review all the contracts and bills.  Oversee all your business telecom services through a single point of contact – what could be easier?
Feature #3
SIP Trunking
SIP trunks, or "virtual" phone lines that operate over the Internet, can literally transform hotel communications while significantly reducing costs.  Ask about special introductory pricing on Sunco SIP for Business!
Feature #4
Guest Room Phones from all Major Manufacturers
Sunco offers a full selection of hotel room phones from industry leaders Bittel, Telematrix, Mitel, Polycom, Teledex and Scitec.  From simple desk sets to the latest in guest cell phone integration, our team can help navigate the many features and models available to best meet your needs and budget.
Feature #5
Hospitality Managed Services
Let the Sunco team fully manage your hotel's communication system for a low monthly, per room cost.  Includes extended warranties, priority dispatching, 24/7 emergency support and reduced labour rates.
Feature #6
Expert Advice and Guidance
We are experts in hotel phone systems and can help navigate your property to a fully-integrated solution which boosts productivity and efficiency and helps give your guests a memorable, return-worthy stay.  
Time to upgrade hospitality telephone system?
Sunco is proud to be a Platinum Cetis Dealer and carries all the major brands including Mitel, Bittel, Inn-Phone, Polycom, Telematrix, Scitec, and Teledex.
Discover all the latest features!
"Working with Sunco, you immediately feel the sense of pride that runs throughout the organization. It's reassuring to know we have Sunco's commitment and quality of support behind us."
Pacific Gateway Hotel