Cloud computing solutions are helping businesses of all types and sizes unlock impactful efficiencies and new revenue potential. With the right cloud migration steps, business leaders can improve communication solutions, customer experiences, internal human resource processes, and more.
It's expected that by 2027, more than 50% of businesses will leverage cloud-based platforms to capture new business opportunities and accelerate growth.
However, jumping on the cloud bandwagon can't happen instantly. A great deal of care and consideration is required to avoid joining the 74% of cloud migration projects that run over budget or inevitably fail.
This blog will help you understand key cloud migration steps to help you have a smooth and successful shift to the cloud.
What is Cloud Migration?
Cloud migration is when a company moves their IT solutions and digital assets, such as an ERP, data, applications, communications, and other internal systems from an in-house infrastructure to a cloud-based one.
Organizations undergo this type of digital transformation to improve internal processes, streamline communication tools, break down silos, and improve productivity.
Generally speaking, cloud migrations are done to help teams use IT to get more work done, get it done in less time, and reduce operational costs.
Why Do Businesses Need a Cloud Migration Strategy?
Remember the old adage, "If you fail to plan, you plan to fail"? This classic phrase, first penned by Ben Franklin in 1790, rings especially true when taking on any digital transformation – including a cloud migration.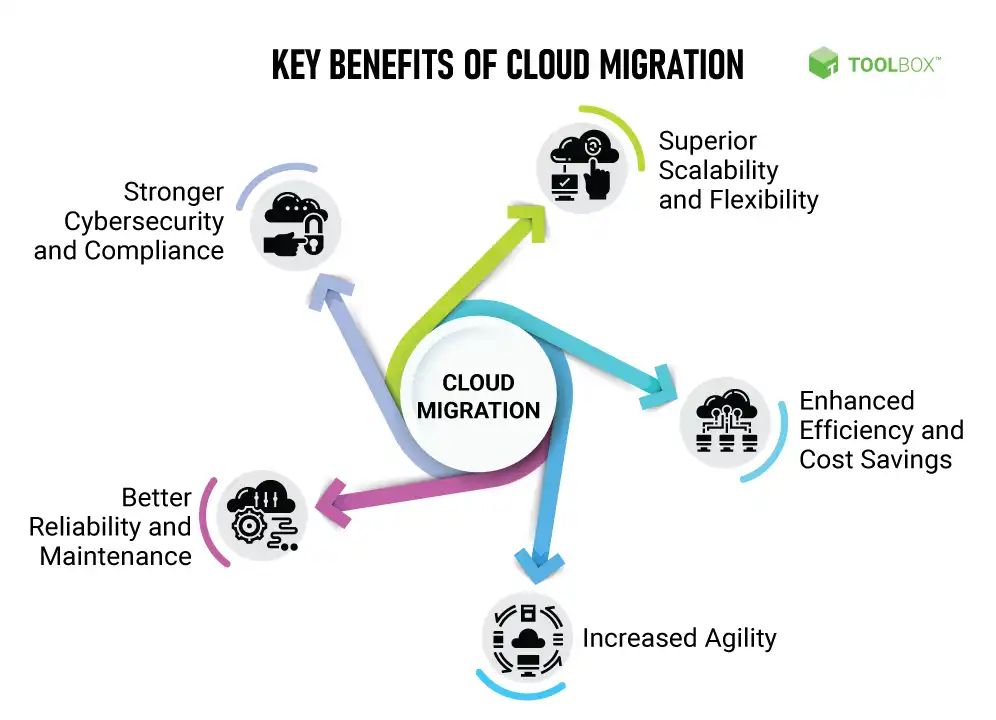 In short, if you want your cloud migration to be successful, you need a comprehensive and thoughtful migration strategy.
This may seem daunting, but, keep in mind that cloud migration is more than just incorporating a new application or digital tool to your technology stack. It's a complete transformation of your whole business, done with the desire of making your organization more efficient and better able to:
Serve your customers
Quickly adapt to market changes
Seize new business opportunities with ease
Engage your team
Lower IT costs
Learn Other Ways to Leverage IT Solutions for Efficiency:
9 Critical Steps to Enjoy A Successful Cloud Migration Process
When you've reached the right time to move operations to the cloud, be sure to proceed with some caution. While this process will inevitably get you a better-run organization, it can only do so if you take your time, plan your steps, and perform your due diligence.
Below we're sharing nine critical steps every business should follow when migrating to the cloud.
1. Assemble Your Cloud Migration Team
Before your cloud migration project can get off the ground, you need to assemble your team. This should include the people who know your business and its challenges, have a deep understanding of your IT infrastructure and have the right experience to successfully oversee and manage this project.
Be sure to include a cloud migration consultant as part of your team. Cloud migration consultants have extensive experience in helping business teams plan and execute successful migrations. They can provide in-depth knowledge and keep your migration process on the right track.
2. Set Project Goals
This step is where you determine what outcomes your company would like to achieve from your cloud migration.  Identify your project's budget, ideal timeline, and long-term objectives. Take time to really understand what inefficiencies and challenges your business processes are creating.
To help you find clarity for this project, try asking yourself the following questions:
Are any processes preventing your team from exceeding customer expectations? Would better communication tools increase customer satisfaction?
How much time is spent on repetitive tasks? Could this time be reduced with automated solutions or better integrations?
Where are silos happening? Is there one area of your business that routinely slows down other processes?
Where would you like to see better accountability? Are your team members actively taking ownership of their tasks? Would a real-time view of data encourage better adoption of accountability?
Do you have outdated solutions? Are you dealing with legacy solutions at the end of their life support? What features will you be glad to be rid of? What features would you like to retain?
Need Help With More Than Just the Cloud?
3. Assess Your Current Infrastructure
Now that you know what you want, it's time to review what you have by taking stock of your current infrastructure. Be sure your assessment is based on your organization's needs and strategic goals. Look to identify weaknesses, strengths, security vulnerabilities, and anything you'd like to see improved.
During your assessment, be sure to review the following areas of your infrastructure:
IT strategy
IT performance
Software and hardware capabilities
Risk management
Regulatory compliance needs
Current workflows and procedures
4. Define Your Migration Strategy
With your goals defined and a clear picture of your infrastructure, your next step should be to identify your ideal cloud migration strategy.
Your cloud migration strategy is based on your business's current cloud infrastructure and the one you'd like to end up working with. For instance, if you've already moved to the cloud but are unhappy with your current provider, you'd probably want to choose a relocation strategy.
There are numerous migration strategies for cloud transformations, we've outlined five of the most common ones below.
5 Common Cloud Migration Strategies
| | |
| --- | --- |
| Rehost | Move on-premise solutions to third-party cloud servers without changing the functionality of your current processes. |
| Relocate | Switch from one cloud server to another. This is for switching from one provider to another. |
| Replatform | Move from one server platform to another. This could be changing from an Infrastructure as a Service (IaaS) to a Platform as a Service (PaaS) |
| Rebuild/Replace | Migration that focuses on rebuilding current infrastructure. This is common when upgrading outdated solutions. |
| Refactor | Overhaul current infrastructure from top to bottom. Best for replacing unsupported and poorly functioning legacy systems. |
5. Outline Phases and Steps for Cloud Migration Success
Now that you have your goals, team, and strategy all lined up, it's time to create a migration plan. Adhere to project management best practices and be sure to assign accountability roles for tasks in each phase of the project.
This is a good time to leverage your cloud migration consultant. They've been through numerous migrations and will have a unique insight to help your project avoid common migration pitfalls and challenges.
6. Select a Cloud Provider
Who you select as your cloud provider will be your partner, be sure it's someone you trust and will provide the support and expertise you need.
Look for providers that can support your chosen cloud infrastructure (private cloud, public cloud, hybrid, multi-cloud, IaaS, SaaS, PaaS, etc.) and have proven experience in serving your industry.
7. Implement the Migration
At this point you should have a solid migration plan in place and be ready to roll; it's now time to put all your hard work and planning into action.
While your migration is being implemented, keep a close eye on the process and be ready to respond to hiccups and challenges that may arise.
It's not unusual to encounter issues during implementation. Keep in mind that a successful migration isn't just about shifting data to the cloud; it's about ensuring your new infrastructure serves your business for the long term.
Need help with complex data networking? At Sunco, we create custom-made solutions that you can trust. Our experienced team and partners will ensure your system is secure, reliable, and cost-effective so you can have peace of mind. Connect with us: https://t.co/8BukbLtrzY pic.twitter.com/mYMEHjDUph

— Sunco Communication & Installation (@suncocomm) May 23, 2023
8. Test Your System
After the implementation phase is complete, test out your new cloud system. Use this time to validate the new system, test its performance and security, and ensure its new functionalities align with your business goals.
9. Train Your Team
Strong cloud infrastructure is empowering only when managed by a trained team. Post-migration training is key to understanding a new system, it's unique nuances and how to perform basic troubleshooting.
If training seems daunting, your cloud providers or migration consultant should be able to guide you.
Take the Right Steps for Cloud Migration with Sunco
Cloud migration is a journey that can revolutionize your business for the better, if executed properly.
At Sunco Communication and Installation Ltd., we have the right people who can help. If you're ready to make your cloud migration experience a success, reach out to our team today.