Like businesses in any other industry, call centers have diverse needs. The practices that work for one may not be ideal for another. This can make vetting the right call queue software somewhat more challenging than it may appear upon first glance.
As such, the right software for call center operations really depends on your business model and the size of your center. It may also depend on whether your agents work remotely or in an office. Therefore, pinpointing the perfect call queue software for you is beyond the scope of this article.
Instead, this article will help you make a more informed decision as you choose a tool yourself. We'll discuss what call queue software is, how it works, why it's important, and what you should look for as you choose the right solution for you.
What is a Call Queue Software Tool?
A call queue software tool is an essential component of any modern call center or customer support operation. It functions as a virtual waiting room for incoming calls, ensuring that callers are placed in a queue and connected to the next available agent in the order they called.
"In today's fast-paced world, efficiency is key, and call queue software delivers just that." – Sean Schoenberger, President, Sunco Communication and Installation
This tool not only streamlines the process of handling high call volumes, but also enhances the overall customer experience. Most callers aren't willing to wait for an agent to answer. The industry average for call centers is that 80% of calls should be answered within 20 seconds. Callers who wait longer than expected give up, 34% of whom will never call again.
Technology-powered efficient call queueing can help prevent this situation. Callers who called first get priority, which helps ensure that your agents answer them in a timely manner. Your target age demographic will also make this more of a critical issue. Perhaps surprisingly, younger people are willing to wait on hold longer than older people on average.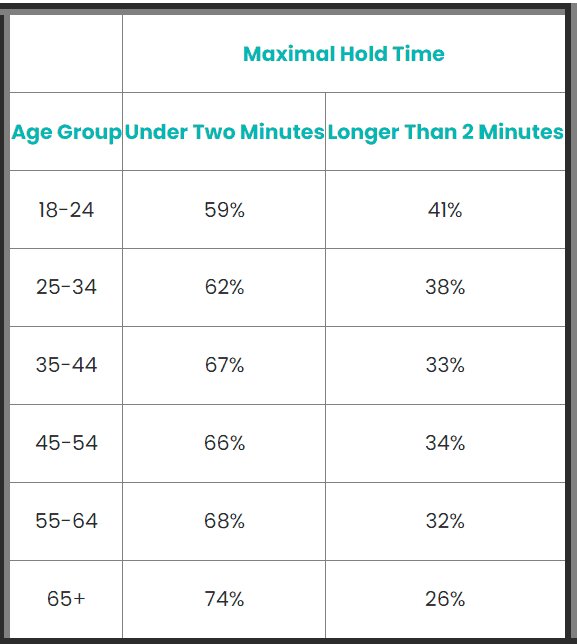 Image source: Arise
No matter who you target, efficient call rotation is always important. This difference simply highlights that this is a more pressing issue for call centers that mainly deal with older clientele.
Why Should You Use Call Queue Software at Your Call Center?
Call queue software automatically manages incoming calls at your call center. Instead of manually transferring inbound calls, the software places them in a virtual call queue system to connect them to the next available agent. You can even set rules to prioritize certain calls if factors other than the time they called affect priority.
Learn More About Optimizing Your Call Efficiency
This system does more than improve customer service. It also helps distribute calls evenly among agents, so no one is overwhelmed or idle. This is because agents save labour time on manually transferring calls and because it pushes calls to who is actually available.
How to Pick The Right Call Queue Software For You
Like any other software tool, you have a lot of options when it comes to call center software. The right call queue technology will depend on your center. Here are a few things to look for while choosing your system.
Ease of Use
Choose call queue software that is user-friendly and easy to navigate. Your agents should be able to quickly learn how to use the software without extensive training. This isn't just to save you time on training, but also to ensure you get the speed benefits that the tool is meant to provide.
On average, the typical worker spends almost 4 hours per day navigating software applications. Too much time spent trying to navigate your call queue software may defeat the purpose of its intention to expedite calls.
Does Your Call Center's Phone System Need an Upgrade?
Customization
Pick software that allows you to customize your call queue settings. You should be able to set up personalized greetings, hold music, and queue announcements. The software should also let you create rules for prioritizing certain calls outside your usual pattern. For instance, you may prioritize repeat callers even if they called later than someone else.
Integration
You should opt for software that integrates with other tools you use, such as customer relationship management (CRM) systems or helpdesk software. This will help streamline your operations and improve the overall customer experience.
Simplify Call Center Management More With Managed Telecom Services
Scalability
Your software must be capable of growing with your call center. As your business expands, you may need to handle more calls and add more agents. Make sure the software you choose can accommodate these changing needs. Even if you're small now, you should opt for a future-proof solution that can expand if you do.
Cloud-Based Solutions
Consider whether you want a cloud-based or on-premise call queue software. Cloud-based calling solutions are hosted on the provider's servers and accessed via the internet. They generally offer more flexibility and are ideal for remote call centers.
Comparatively, you may opt for an on-premise solution if you prefer more hands-on management. However, you should be aware that this may come at the cost of significant time savings and may not work if your agents aren't centrally located.
Get Expert Advice on Vetting The Perfect Call Queue Management System at Your Center
The advice in this article gave you a better understanding of why not all call queue tools are alike and what you need to consider when you choose yours. If you still need some help procuring the right solution, you can get it from Canadian call center experts.
Sunco Communications and Installation is an Alberta-based telecommunications and IT services provider. We're experts at technology consulting and are happy to provide procurement services. Our expertise is the perfect combination of telephone and technology to help you vet exactly what you need to enhance your call center's productivity.
Reach out to Sunco today to get started.