The benefits of consulting in IT aren't always obvious. It's easy to see that strategic advice from an IT expert will simplify project management and ensure your business remains competitive. Yet, there are some hidden additional benefits of IT consulting.
"In today's increasingly digital world, the right IT strategy is the difference between surviving and thriving." – Balaji Selvaraj, Director of IT
For example, would you have expected that hiring IT consultants would help save you money? Or that they would help accelerate your business growth? These are 2 of the many unexpected IT consulting benefits you should be aware of.
In this article, we'll go over 5 key benefits of IT consulting services. Hopefully, this information will help you decide whether or not an IT consultant is right for you.
The 5 Biggest Benefits of Hiring IT Consultants
1. Expertise & Specialization
Hiring an IT consulting company allows you to tap into a wealth of knowledge without needing in-house training. Most consulting firms have a variety of full-time employees who specialize in different areas of information technology.
As a result, hiring a consulting firm is a bit like getting multiple employees for the price of one. It will save you time and money on recruiting and help increase productivity faster. For instance, there's no reason to look for 2 separate cybersecurity and cloud computing experts.
2. Cost-Efficiency
On the surface level, hiring IT consultants may seem like an additional, unnecessary expense. However, the truth is that one of the top benefits of hiring an IT consulting service is that you will end up saving money in the long term.
To put this in perspective, you should look beyond the upfront costs. Consider the long-term ROI you'll receive from your IT consultant's insights and compare that to their initial price tag. In most cases, the amount business owners save on lost productivity and inefficient technology solutions is well worth the cost.
Here's an equation to help you picture it.
Net Savings = (Total Long-Term Savings – Upfront Cost)
Here's a visual to put that equation into perspective (using example numbers).
Cost of the IT Consultant: $10,000
Money saved on:

Lost Productivity: $20,000
Poor Technology: $15,000

ROI: $30,000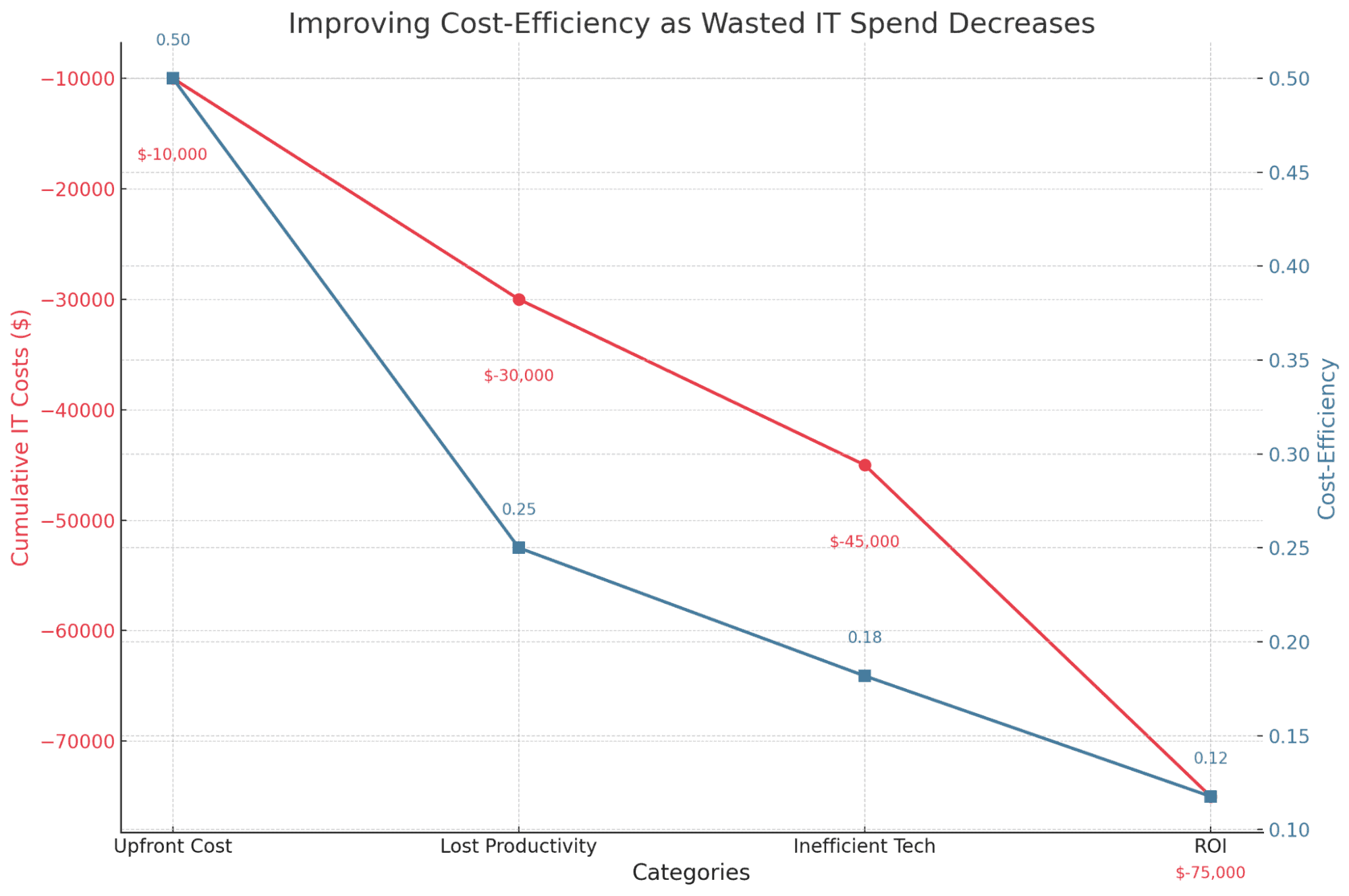 This graph shows an inverse relationship: as the IT-related losses decrease, the cost-efficiency of your IT budget improves.
Here's a breakdown of what this visual means:
The red line represents the cumulative IT costs. It starts with the upfront cost and then decreases as we factor in the savings from reduced lost productivity, inefficient technology, and the ROI from the consultant's insights (numbers from the example list above). As you move from left to right, IT-related losses decrease.
The blue line represents the cumulative cost-efficiency.  As IT costs decrease, hiring an IT consultant becomes more cost-effective.
3. Fresh Perspective
Bringing in a fresh set of eyes can highlight undetected problems or inefficiencies. External IT consultants offer unbiased opinions and innovative solutions that internal teams might overlook due to their familiarity with your current system.
This insight extends to both IT systems and business processes. When people fall into routines, they tend to go on autopilot which decreases creativity. This lack of creative insight leads people to follow inefficient processes without questioning their effectiveness. An external consultant hasn't fallen into this routine and will be more likely to spot the issues.
4. Flexibility & Scalability
As your business grows or technology evolves, your IT needs can change. This transition is challenging without a strategy in place. IT consultants are trained to deal with this situation. You can also scale their services up or down as needed.
Better yet, your initial consultation will likely involve some change management strategies. Most IT consultants are trained to help you prepare for incoming evolutions. So, they'll help you procure solutions and plan your IT roadmap in a way that considers possible changes.
5. Risk Mitigation
Technology projects can be complex and fraught with potential pitfalls. Experienced IT consultants can help you navigate these challenges. They do this by guiding you through project road mapping, procurement, and implementation.
This strategic advice significantly reduces your risk of project delays, scope creep, and unplanned costs. It also prevents configuration issues that can cause disruptive IT problems down the line.
Learn More About What an IT Partner Can Provide
What is The Difference Between IT Consulting and Managed Services?
Many managed IT service providers (MSPs) offer IT consulting as part of their business model. However, the 2 services are different. IT consulting focuses on providing expert tech advice to businesses. Comparatively, managed services deliver continuous IT support and manage the whole tech infrastructure.
Based on these different service models, it is true that a business owner could benefit from one but not the other. However, in most cases, companies hire a managed service provider who offers IT consulting. This way, they can have expert advice and daily tech support at their fingertips.
This combination ensures that your IT network is not only expertly maintained but also optimized for future growth. That's because the MSP's IT managers will work with the consultants to ensure that their activities align with your strategic roadmap.
Sunco Offers Managed IT & Consulting, but We Also Offer:
Enjoy All The Benefits of an IT Consultant And a Managed Services Provider
Outsourced consulting is great for a one-off project, but most SMBs could use a hand with their day-to-day technology tasks. Even if you're not struggling, the extra help can significantly boost your business productivity, which will only help your growth.
Sunco Communication and Installation is a managed service provider that provides IT consulting services. We started in VoIP (and still offer this) but have expanded our business to include all things IT. So, you can lean on us for the benefits of multiple vendors without the management headaches.
Contact Sunco today to get your free demo and get started.