When something goes wrong with technology, most people's first instinct is to contact IT support. When they do, they expect fast, effective service that can easily solve any technical issue. Yet, not all tiers of IT support are equipped to handle every IT problem.
For this reason, it's important to understand what these tiers mean so you know where to direct each call. Understanding these differences will greatly improve your customer service. Passing calls to the best person will ensure time and quality expectations are met and exceeded.
This article will explore IT support levels 0 – 4. We'll discuss what each tier offers, how to organize it, and who you should hire for each tier on your technical support team.
An Overview of IT Support Tiers
Tier
Skill Level
Examples
Problems Solved
0
None – customer self-service

Chatbots
Frequently asked questions
Knowledge bases
Forums

Simple problems that do not require additional assistance from a specialist.
1
Minimal

Responding to email questions
Product or service information
Basic troubleshooting
Non-technical problems like password resets

Common frontline IT inquiries that do not require a high level of expertise.
2
Moderate

Product or feature requests
Backend issues
Billing issues or refund requests
Network problems

Routine IT issues that are too technical for tier 1, but not in need of specialized expertise.
3
High

Unusual one-off IT issues
Advanced troubleshooting
Security breaches
Bug fixes

Complex issues that require expert guidance or niche solutions.
4
Outside the internal team's scope.

Issues with third-party hardware or software
Complex problems with third-party solutions that cannot be solved with regular troubleshooting

Issues that require third-party assistance. May vary in complexity.
IT Support Tiers Explained in Detail
Tier 0
Tier 0 support involves any customer issues that they can solve themselves with the right resources. It includes free online tutorials, FAQs, or automated chatbots. Customers tend to expect companies to provide these resources.
Customers don't need to call if they only need tier 0 support. However, you may still receive calls from customers who only need tier 0. For this reason, train your tier 1 technicians to recognize these instances and redirect them.
You will need skilled individuals to create these resources. This includes programmers who can build chatbots and experts who can write your online knowledge base.
Tier 1
Tier 1 is the first level of IT support when a customer will need human assistance. It's not uncommon for tier 1 support to be an escalation from tier 0. Often, customers will call your tier 1 service desk after they've exhausted your tier 0 resources.
Here, customers seek further information and basic troubleshooting. You don't need to employ seasoned IT experts at this tier, but you do need people with a thorough understanding of technology.
Tier 1 technicians typically walk the customer through the problem and offer potential solutions. They may test various options to see if it resolves the issue. Tier 1 support staff should also be able to recognize when they need to redirect the customer to tier 2.
Tier 2
Tier 2 is where things start to get technical. At this level, technicians have a deeper knowledge of your products or services, and they possess a more extensive technical skill set. They may also work with other departments or vendors to resolve the customer's problem.
Typically, tier 2 technicians have 2-4 years of IT support experience. This means that they should know how to provide an excellent customer experience alongside their tech skills. Many of their functions are similar to tier 1 at a more advanced level. They should also recognize when to escalate to tier 3.
Get Expert Technicians to Answer Calls at Every Tier With Managed IT Support
Tier 3
Tier 3 is the highest level of support you can offer internally. Usually, a company would have already attempted to solve the customer's problem at tiers 1 and 2. You should only send a caller to this tier if they need access to the highest level of expertise you can offer.
Tier 3 support may also require on-site visits. Your technicians should recognize when they need to send someone to your customer's office to provide support.
Tier 4
Tier 4 support includes anything that cannot be solved in-house. If you outsource IT, they may or may not be able to solve an issue at this level. Tier 4 support typically means that a third-party vendor needs to get involved.
However, these inquiries may not be complex. For example, there may be a simple backend issue that can only be resolved by someone from the vendor's team.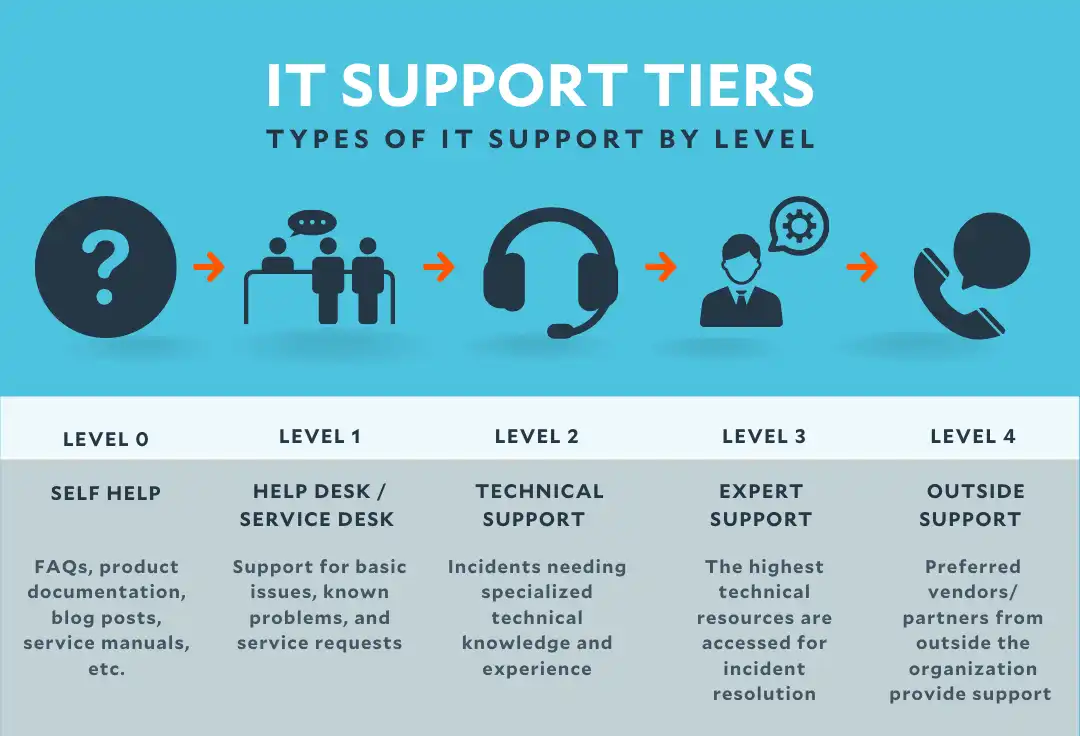 Source: BeyondTrust
Do I Need All 5 IT Technical Support Tiers?
Different businesses structure their IT in different ways. As such, not every business includes all 5 tiers in their IT support. Consider the following as you choose which tiers to include in your IT support structure.
Your team's skill level
Call volume
Customer expectations
Potential IT problem complexity
Whether or not you are outsourcing
Learn More About Providing Top-Tier Technical Support
Simplify Any Tier of IT Support With Managed Support Services From Sunco Communication and Installation Ltd.
No matter how well you organize your support desk, massive call volumes can easily overwhelm your staff. In this case, you may consider outsourcing at least some of your IT support tasks.
Sunco Communication and Installation Ltd. offers managed IT support at varying tiers. We can reduce your IT team's load or become your support specialists if you don't have any. We also troubleshoot telecommunications issues, so you can trust one vendor with different support needs.
Contact Sunco to request a quote for managed IT support service.